Our Original formula is a nutritionally optimised formula. 
Our extremely satiatiıng  superseeds based carbohydrate mix contains meals of the delicious superseeds   buckwheat, quinoa and amaranth.  All of which provide a fresh flavor and taste to our shake, while making it a product with complex carbohydrates only.  These carbohydrates are all also Gluten-Free.
There are No added sugars in this mix and an extremely low levels of naturally occuring sugars (0.8 g/100g).
There is 30 g protein per serving of which  10 grams come from the superseeds. These superseeds have amino-acid profiles that are complete as opposed to many other vegan protein sources.
One bag contains 12 meals of 400 kcal and weighs 1200 gram per bag.
Original - v2.5- Features
Evidence Based Ingredients
Perfect distribution of ingredients according to latest evidence based insights as published by the European Food and Safety Authority.
100 gram (400 kcal) contains 30 gram of proteins. Mainly coming from Superseeds, Soy Isolate with Total BCAA's of 23% of the total amino-acid profıle.
The complex carbohydrates coming from Buckwheat, Amaranth, Quinoa make sure you have energy for at least 4 to 6 hours.
No simple carbohydrates in Powder Matter.
The sugar level is 0,8 gram per 100 gram. This is also the only detectable level of simple carbohydrate.
No sugars hidden under names as: cane-syrup, apple-extract, fruit-juice-extract, natural-honey…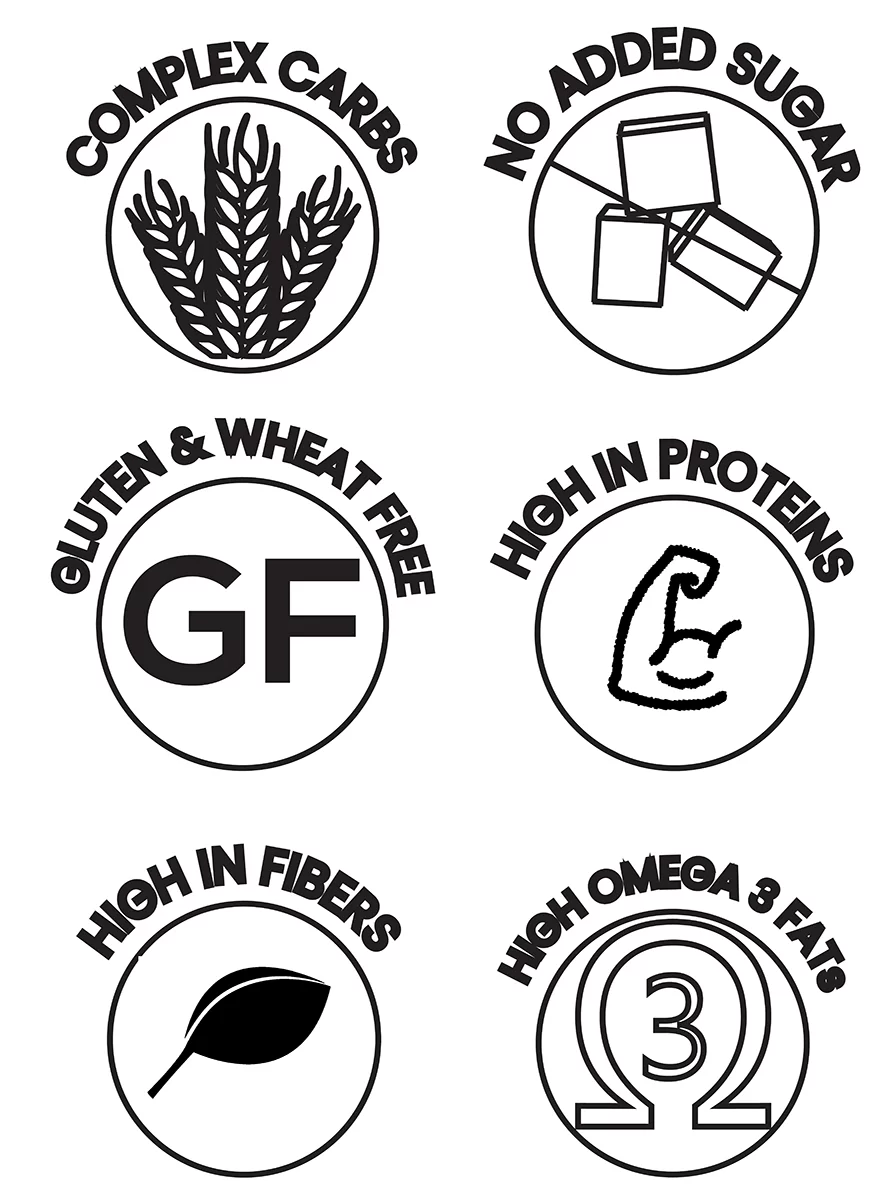 Eight to 10 gram of fiber in every 100 gram you eat, is fiber. 
All essential vitamins & minerals
All essential vitamins and minerals a human body requires, are included.
A healthy amount of balanced plant based fats with an amount of Omega 3 at a ratio of 1:2 (to Omega 6). 
Maltodextrin is eliminated from our recipe as a carbohydrate source. It works exactly the way sugar works and  gives you exact the same troubles. No more!
A Perfectly Varied & Balanced meal, with energy coming from the right ingredients
The ingredients in one meal of our product are designed as such that 36% of energy comes from carbohydrates, 30% from proteins, 30% from fats, 4% from fibers.
This is within the advised evidence based guidelines from the European Food and Safety Authority (EFSA).
Everything the body needs, all the carbs, proteins, fats, fibers, vitamins and minerals
Paying attention to latest insights in food science, we avoided added sugar, GMO products, trans fats and an excess of saturated fats.
We included more protein, more fibers, complex carbohydrates, and Omega-3 fatty acids.
Frequently Asked Questions