UK: 2.50 € shipping 
Delivery 2-3 days, also on sundays!
Shipping from The Netherlands
Germany: 1€ shipping costs.
Choose DPD pickup point @ checkout
The wide variety of opinion on taste of a certain shake, has steered us in the direction of a more neutral tasting mix. One that is easy to drink, is not too sweet or too salt, not too bitter or too savory, does not have any powerful flavors or smells. 
Actually something that quite resembles milk, without the lactose of course.
The Neutral formula is developed by gathering information from customers that have been consuming meal replacements for a larger part of their diet the last few years.
Because of the bland taste, it can be consumed with little effort, which ensures the intake of adequate and optimal nutrition causing a satiety for many hours. 
Occasionally adding a favourite fruit, a spoon of cocoa powder or a can of (nut) milk will ensure some variety.
While developing this formula we kept to the following basic principles we maintain: 
Every meal is within the dietary advises of the EFSA for a healthy and optimal diet.
The mix contains no added sugars, only complex carbohydrates
The protein levels are high, come from a variety of sources providing a complete amino-acid profile and high bio-availability.
Omega 3 fats and fiber levels are as recommended by the EFSA. 
One bag contains 12 meals of 400 kcal and weighs 1200 gram per bag.
The bulk discount that comes from eventual added Original bags, will be displayed in the cart
Neutral - balanced & complete
Evidence Based Ingredients
Perfect distribution of ingredients according to latest evidence based insights as published by the European Food and Safety Authority.
Every portion (100 gram = 400 kcal) contains 22  gram of proteins. Mainly coming from buckwheat and soy protein isolate. 
Buckwheat is added to vegan diets since the middle-ages because of its complete amino-acid profile, the high bio-availability and high level of vitamins and minerals.
Just 10 gram of the proteins come from soy protein isolate.
The complex carbohydrates coming from Buckwheat makes sure you have energy for at least 4 to 6 hours.
Gluten Free, Lactose Free
Neutral does not contain Gluten containing ingredients or Lactose containing ingredients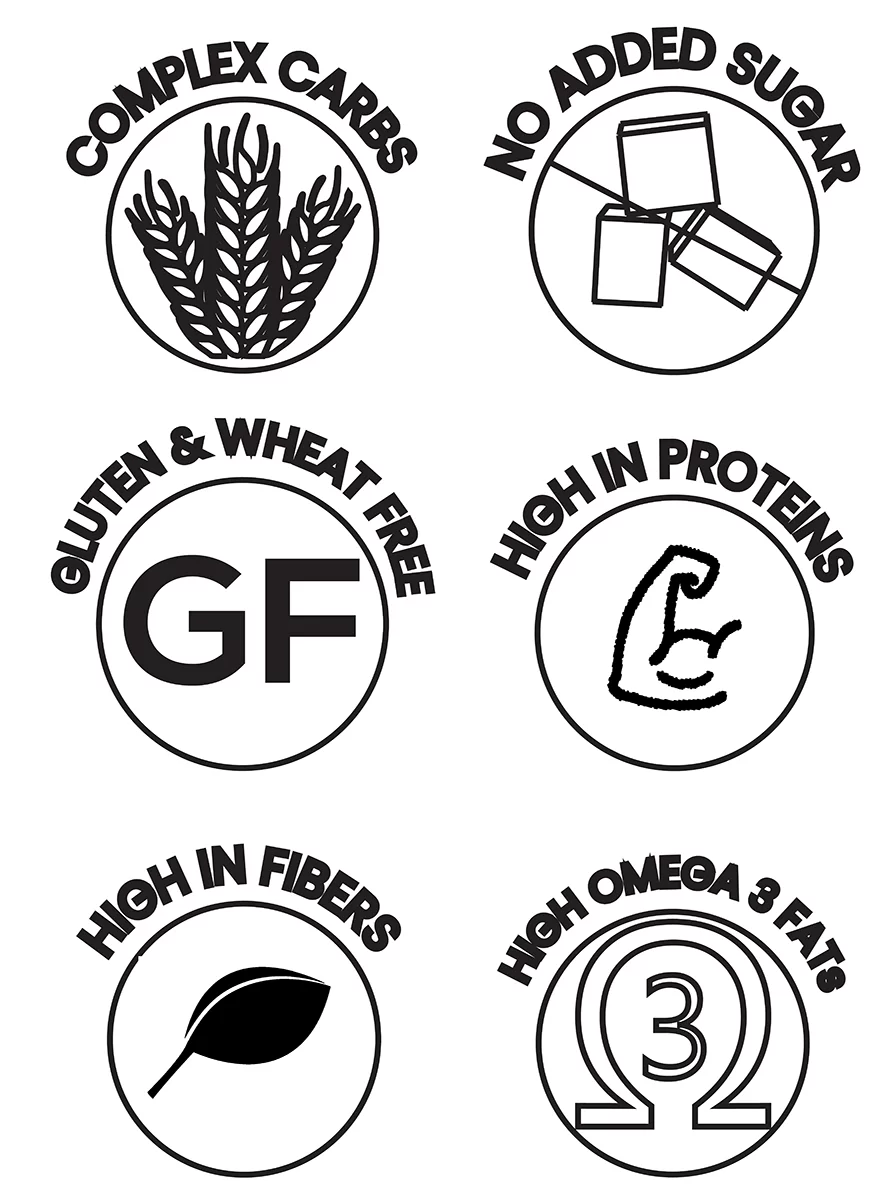 Neutral contains 7.5 gram fiber per 100 gram
All essential vitamins & minerals
All essential vitamins and minerals a human body requires, are included.
A healthy amount of balanced plant based fats with an amount of Omega 3 at a ratio of 1:2 (to Omega 6). 
No maltodextrin, No added sugar
The sugar level is 1.3 gram per 100 gram. 
There are no sugars hidden in our product under names as: cane-syrup, coconut-sugar, apple-extract, fruit-juice-extract, natural-honey, agrave-syrup…
A Perfectly Varied & Balanced meal, with energy coming from the right ingredients
The ingredients in one meal of Neutral is  designed as such that  42% of energy comes from carbohydrates, 20% from proteins, 35% from fats and  3% from fibers.
This is within the advised evidence based guidelines from the  European Food and Safety Authority (EFSA).
Everything the body needs, all the carbs, proteins, fats, fibers, vitamins and minerals
Paying attention to latest insights in food science, we avoided added sugar, GMO products, trans fats and an excess of saturated fats.
See what others have to say
Most frequent questions and answers